The Museum will be closed to the public from December 7th until January 14th for maintenance and for exhibition installation. The opening reception for the next exhibition is Tuesday, January 13th from 7 p.m. to 9 p.m. Regular visiting hours resume on Wednesday, January 14th.

KIM KENNEDY AUSTIN: INDUSTRY, CHARITY, FAITH, HOPE
January 14 to March 7, 2015
Opening Reception: January 13 from 7-9 p.m.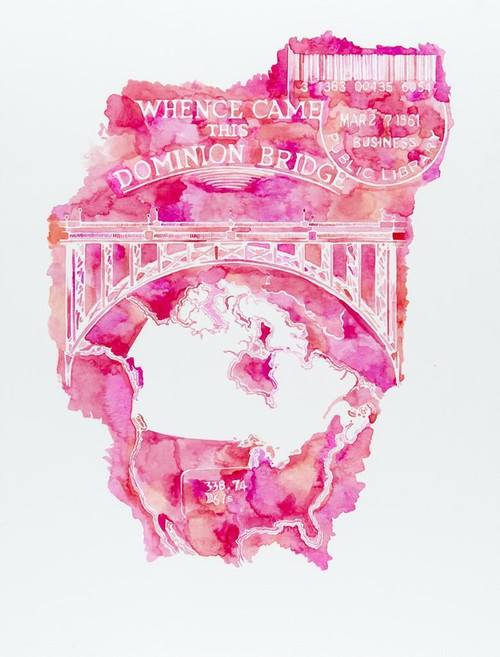 A Bridge That Spans the Dominion
Watercolor on paper, 13.8" x 10.6", 2014
For this exhibition, a selection of work produced over the past two decades have been assembled to indicate the broad territory of Vancouver artist Kim Kennedy Austin's practice. Austin looks at structural systems and emotive aesthetics in the ubiquitous sea of printed matter that is trying to sell us products, religion and lifestyle. Operating on the fringe of the social and economic milieu that this material is produced for, and often finding attraction in things that have just gone out of style or lost their function, Austin re-invests these images and objects with labor and attention to detail. Transforming mechanically reproduced forms into uniquely handmade objects, Austin points us back to the creative impulse and imagination that must have inspired their original production.
In this exhibition, the mechanical language of industry is asked to co-exist with spiraling and heart shaped sentimentality of popular culture in the form of text based drawings, watercolors and needle-point stitching. Austin activates an artistic position that can neither be called dry conceptualism or wet expressionism. In this work we find a dialogue between instinct and intellect that ultimately visualizes a labor of love. Accenting this first survey of Austin's practice will be new work produced for the West Vancouver Museum that emerges out of Austin's interest and research into the iron bridges that connect the North Shore not only to other land masses, but other histories.
This exhibition is guest-curated by Patrik Andersson.