WEST COAST MODERN HOME TOUR
Saturday, July 12, 2014
Tour: 12 noon to 4:00 pm; Reception 4:00 pm to 6:00 pm
Explore spectacular mid-century and contemporary West Coast style homes
perched on the rocky slopes of West Vancouver!
The West Vancouver Museum's 9th annual home tour takes place on July 12 from 12 noon to 4:00 pm, followed by a reception at Eagle Harbour Yacht Club from 4:00 pm to 6:00 pm. The five selected homes exhibit architectural features that define the best of West Coast modernism: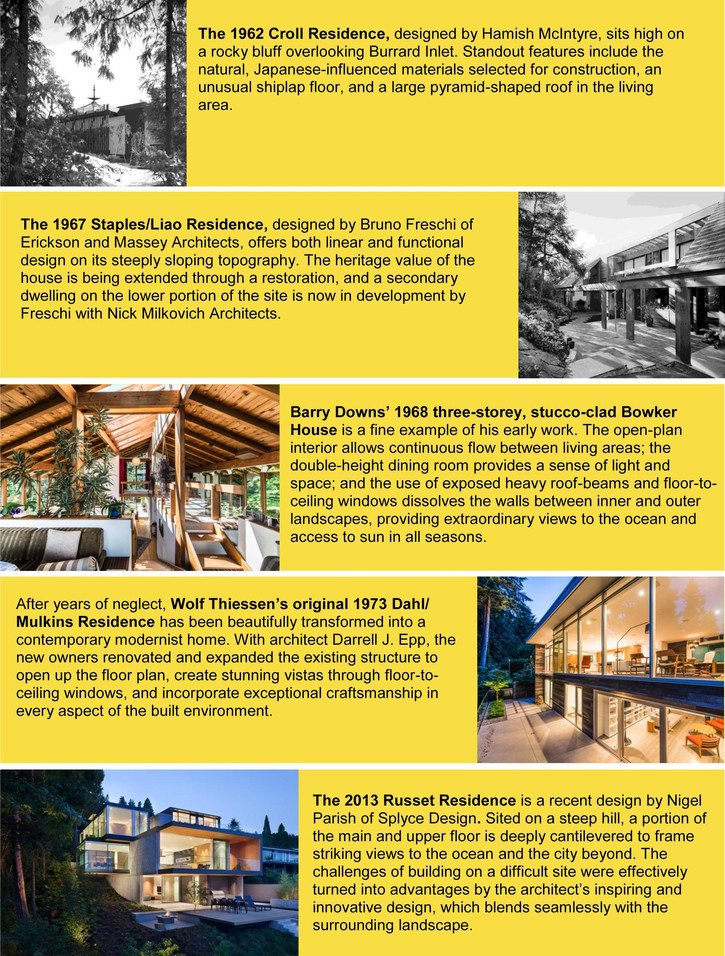 TOUR & TICKETING DETAILS
Home Tour: Saturday, July 12, 2014, noon to 4:00 pm
Reception: 4:00 pm to 6:00 pm, Eagle Harbour Yacht Club
Immediately following the tour, wine and appetizers will be offered at a reception generously sponsored by British Pacific Properties and these fine West Vancouver restaurants:
Amici, Carmelo's, Chef Hung Taiwanese Beef Noodle, Edible Arrangements, Handi, Larson Station, Maurya Bistro, Pastameli, Red Lion Bar & Grill, Rose Thai, Savary Island Pie Company, The Truffle House & Cafe, Temper Chocolate and Pastry, Thai Pudpong, The Truffle House and Café and Zen.


Our media sponsor, Homes & Living magazine, will provide complimentary copies of their magazines to tour participants.

Thanks to Coast Modern, we will be giving away five Coast Modern DVDs at the reception.

Home tour participants will have an exclusive opportunity to purchase tickets for an original limited-edition print, Tangled Beach, by Gordon Smith. The winner will be announced at the reception.
Tickets: Note: All bus tour tickets and reception tickets have been sold out!
A limited number of home tour tickets are still available:
To register for the tour, please choose one of the following three options:

Option 1: Visit houses by tour bus and attend the reception, code # 951288, $120 -- A few more tickets available.

Option 2: Visit houses by your vehicle and attend the reception, code # 951289, $110 -- Waitlist.

Option 3: Visit houses by your vehicle (the reception is not included), code # 951290, $90
For tickets, call or purchase online using one of the codes above.

To register by phone: 604.925.7270

To register online: westvancouverrec.ca

For more information, please call 604.925.7179, or visit
westvancouvermuseum.ca or https://www.facebook.com/wvmuseum
Check-in: West Vancouver Museum from 11:00 am
At check-in, participants will receive a Tour Package containing complete details about all five houses.
West Vancouver Museum
680 – 17th Street, West Vancouver, BC V7V 3T2
westvancouvermuseum.ca