West Vancouver Museum Announces New Exhibition
Finding a Voice: The Art of Norman Tait 

October 14 to December 5, 2015

Opening Reception: October 13, 7 to 9 pm
Curators' Talk: November 7, 2 pm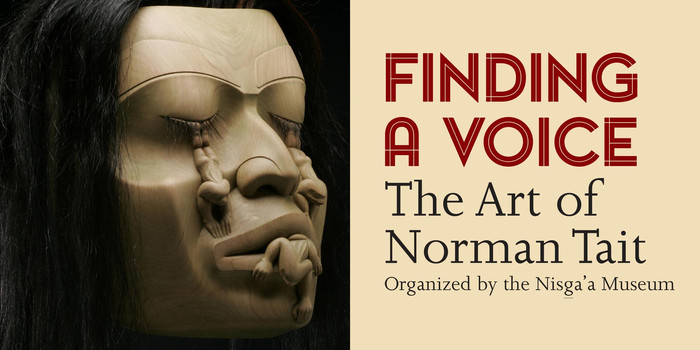 Imbued with a deep connection to his Nisga'a heritage and family, artist Norman Tait has utilized his artistic gifts and transcended the quotidian to create the extraordinary. Self-taught, this self-critical and highly engaged artist has researched and explored his Nation's rich cultural heritage and forged a voice for himself that speaks through his myriad of sculptural and two dimensional works. This voice is driven by a passion to reinvent traditional narratives within a contemporary context and provide ways in which to connect his ancestral heritage to today's fast paced and changing world.
For three months this fall, the West Vancouver Museum is hosting an exhibition showing the extraordinary range of this gifted artist. Organized by the Nisga'a Museum, Finding a Voice: The Art of Norman Tait includes carvings (masks, bowls, spoons, and rattles), jewellery (earrings, bracelets, and pendants), prints, and photographs of major public art commissions. Most works in the exhibition were made after 1980, although some were created between 1970 and 1977.
"Finding a Voice: The Art of Norman Tait is only the second public museum exhibition in history to focus on Norman Tait," notes West Vancouver Museum director Darrin Morrison. "The first was at the UBC Museum of Anthropology in November 1977, and we're thrilled to have the opportunity once again to showcase the work of this premiere Canadian artist for local audiences."
Born into the community of Gingolx in northwestern B.C. in 1941, Norman Tait discovered and learned from an early age his family protocols, oral history, and cultural ceremonies. To date he has carved 39 totem poles, including those for the Nisga'a Nation, the David Suzuki Foundation in Japan, the Field Museum in Chicago, and the British Royal Family in London's Bushy Park. He has also carved and raised five totem poles throughout Metro Vancouver, including UBC, Stanley Park, Capilano Mall, and the Native Education Centre. Tait's work can be found in numerous private collections around the world and in public collections at the UBC Museum of Anthropology, Museum of Vancouver, Royal British Columbia Museum, and the Canadian Museum of History.
The West Vancouver Museum is pleased to have partnered with the Nisga'a Museum on this exceptional exhibit, along with the UBC Museum of Anthropology, Museum of Vancouver, Spirit Wrestler Gallery, Inuit Art Gallery, numerous private collectors, Norman Tait, Lucinda Turner, and funding agencies the British Columbia Arts Council and the Nisga'a Lisims Government.
To complement the show, the Museum is presenting a special talk on Saturday, November 7 at 2 pm, featuring Darrin Martens (curator of Finding a Voice: The Art of Norman Tait); Vickie Jensen, Tait's long-time friend, photographer, and author of Where the People Gather: Carving a Totem Pole, a book about Tait and his carving); and Karen Duffek, Curator, Contemporary Visual Arts & Pacific Northwest at UBC Museum of Anthropology.
As well, an exhibition catalogue featuring essays by all three participants in the talk will be available in the Museum Shop for the run of the exhibition.
Image: Norman Tait with Lucinda Turner, Weeping Volcano Woman (detail), n/d. Alder, horse hair, 45.7 x 33.0 x 25.4 cm. Collection of Michael and Inna O'Brian. Courtesy Spirit Wrestler Gallery.