Ann Kipling Drawing the Line
North Shore Works 1962-1967
January 25–March 25, 2017
Guest curated by Robin Laurence
Opening Reception: January 24 from 7 to 9 p.m.
Artist talk: January 28 at 2 p.m.
Curator's Tour: February 25 at 2 p.m.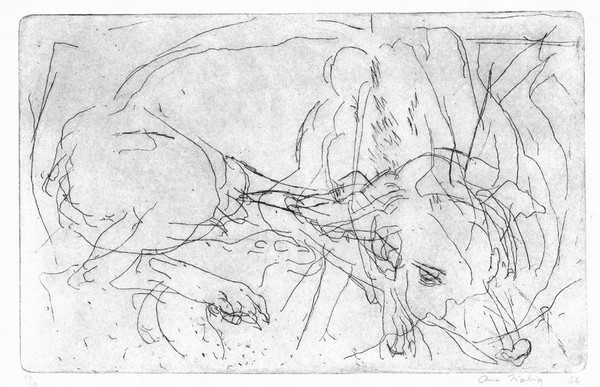 Ann Kipling: Drawing the Line spotlights a pivotal period early in the career of this acclaimed British Columbia artist. Featuring ink, gouache, and mixed media drawings, along with a selection of intaglio prints, the show recognizes the lasting importance of time Kipling spent living on the North Shore in the 1960s, first in Lynn Valley and then in Sunshine Falls. There and then she became herself in art, fully articulating her commitment to the medium of drawing.
In this commitment, Kipling was and remains a rarity. Drawing for her is not a study for some other work, but a complete and compelling art form in itself. The exhibition traces the development of Kipling's highly distinctive art as she shifted from her earlier expressionistic mark-making to a more precise and yet inquisitive line. For her, the drawing process was not about consciously developing a style but about "visual exploration" and learning to see through her own eyes rather than through the conventions of picture making.
Subjects undertaken from her Lynn Valley location include friends, colleagues, a menagerie of birds and dogs, and the challenging North Shore landscape. In Sunshine Falls, she again drew her subjects from her immediate environment: plants, animals, people, and rocky shorelines. An important aspect of Kipling's practice at this time was her investigation of the effects she could achieve through intaglio printing.
Ann Kipling was born in Victoria and lives in Falkland, a small community in the British Columbia interior. She has long been acclaimed for her total dedication to the medium of drawing, and her work has appeared in countless solo and group exhibitions. Kipling is the winner of numerous awards and honours, and in 2004 was the first recipient of the Audain Prize for Lifetime Achievement. Her art is held in public and private collections across Canada and abroad.

The exhibition is guest curated by Robin Laurence.
Image: Ann Kipling, Untitled (Sleeping Dog), etching on paper, 1966, courtesy of the Artist.